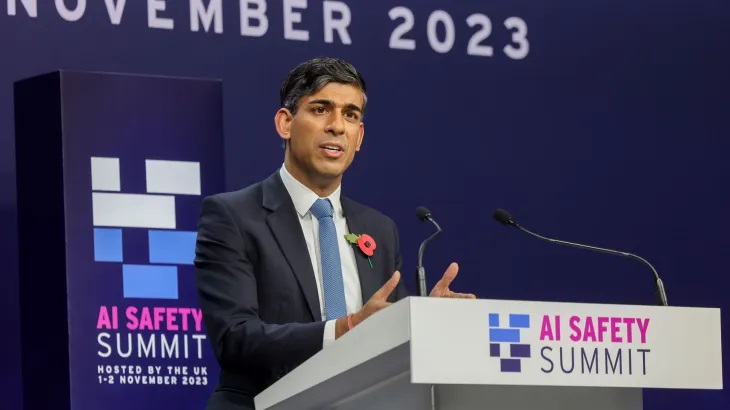 UK Prime Minister Rishi Sunak has inaugurated the AI Safety Institute to spearhead global AI safety standards, coinciding with the Bletchley Declaration's signing at the AI Safety Summit. Leadership includes Ian Hogarth and Yoshuo Bengio. Funding details remain uncertain, and regulatory decisions are deferred, emphasizing the need for thorough understanding before legislating. The summit featured exclusive sessions with international leaders and tech executives, while Elon Musk is set for a non-publicized discussion with Sunak.
In Bletchley, Prime Minister Rishi Sunak revealed plans for the AI Safety Institute but postponed discussion on regulatory measures
The U.K. is poised to make a lasting impact on artificial intelligence policy, building on the momentum of a Frontier AI taskforce created in June in anticipation of this week's AI Safety Summit. Prime Minister Rishi Sunak, at Bletchley, officially unveiled the AI Safety Institute, a new international center based in the U.K., dedicated to the evaluation of advanced AI technologies for safety.
This announcement, which comes on the heels of an informal reveal last week, established the Institute's leadership under Ian Hogarth, an influential figure in AI, supported by AI luminary Yoshuo Bengio, who will oversee the production of the Institute's inaugural report.
Details regarding the Institute's funding remain undisclosed. Positioned under the Department of Science, Innovation, and Technology, the Institute has received endorsements from major AI corporations, though it is uncertain if this implies financial support. Inquiries have been made to the DSIT for further clarification.
Accompanying this announcement is the newly minted Bletchley Declaration, a commitment signed by summit attendees to collaborative testing and evaluation of "frontier AI" risks, such as those posed by large language models.
Sunak, in a briefing with journalists, underscored the past lack of independent AI model safety testing and voiced a plan for international cooperation in this domain, referencing ongoing efforts by the UN and G7.
The U.K. has been cautious in approaching AI regulation, with some critics arguing that without clear policies, safety and risk assessments remain conceptual. However, Sunak maintains that premature regulation could be counterproductive, citing the rapid evolution of AI technology.
The summit at Bletchley, now in its second day, has shown a commitment to transparency in the long term but has been marked by restricted access sessions today. High-level discussions included influential leaders and industry giants, with notable attendance from the U.S., Italy, and France. Despite high expectations, Chinese representatives were absent from today's closed-door plenaries.
Additionally, despite not being part of today's sessions, Elon Musk is scheduled for an exclusive conversation with Sunak on his platform, in an event that interestingly will not be broadcast live.