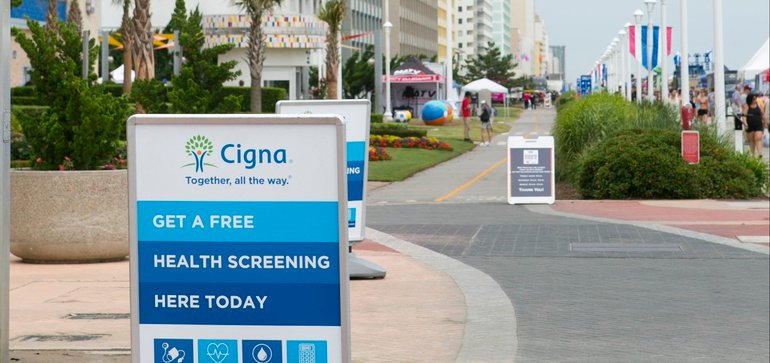 Cigna is revamping its Medicare Advantage strategy in Connecticut, with an expansion, new plans, and new leadership, according to the insurer. Debra Kaplan-Lewis, Cigna's recently appointed Connecticut Medicare market head, is in charge of the changes.
Footprints: This is happening at a time when Cigna is expanding its MA footprint across the country in order to better serve the aging American population. People over the age of 65, as well as individuals who meet certain criteria, can enroll in Medicare Advantage plans. They're popular among beneficiaries because they provide benefits not available under Original Medicare, such as vision, hearing, dental, and prescription medication coverage.
Offerings: Cigna is offering three traditional MA plans in New Haven County: Cigna Preferred Medicare (HMO), Cigna True Choice (PPO), and Cigna True Choice Plus (PPO). In addition, it is offering Cigna TotalCare Plus (HMO DSNP), which is a plan tailored to those people who qualify for both Medicare and Medicaid.
Expansions: "We are very pleased to expand our Medicare offerings to residents of Connecticut and offer our customers in New Haven County access to a network of local providers that are committed to partnering with us to help bring them health, well-being, and peace of mind," said Aparna Abburi, president of Cigna's Medicare business.
Benefits: All four plans also offer fitness benefits and meal delivery following a hospital admission. They all include access to a network of high-quality local doctors and hospitals, including the hospitals of Yale-New Haven Health and the primary care physicians and specialists of Yale Medicine and Northeast Medical Group as well as the physicians of Community Medical Group (CMG).
New leader: Cigna also is pleased to have named Debra Kaplan-Lewis to lead its Connecticut Medicare market. Kaplan-Lewis has more than a decade of experience in Medicare, including experience with the Connecticut market. She earned her bachelor's degree from the University of Massachusetts and her master's degree from Tufts University.