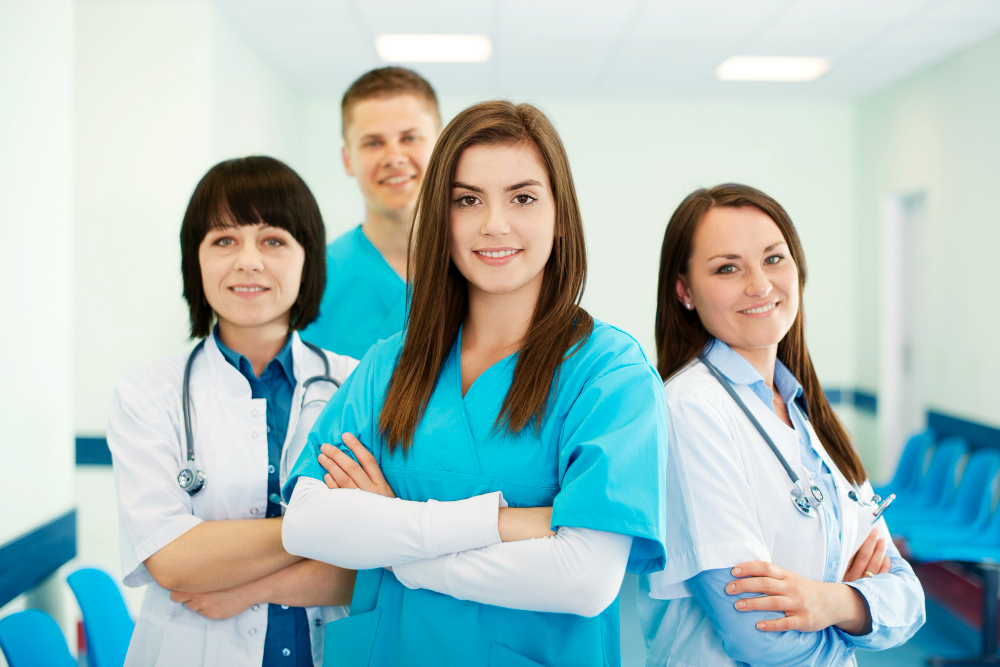 Bans on affirmative action are keeping some racial minorities from getting accepted into medical school, thwarting industry efforts to build a diverse medical workforce that can support health equity and patient-centered care, according to new research in the Annals of Internal Medicine.
The data, collected by researchers from UCLA, the University of Pittsburgh School of Medicine, Columbia University, and Harvard University, showed that in states that enacted bans on affirmative action, the number of racial minorities accepted to medical school fell by nearly a third five years after those bans went into effect.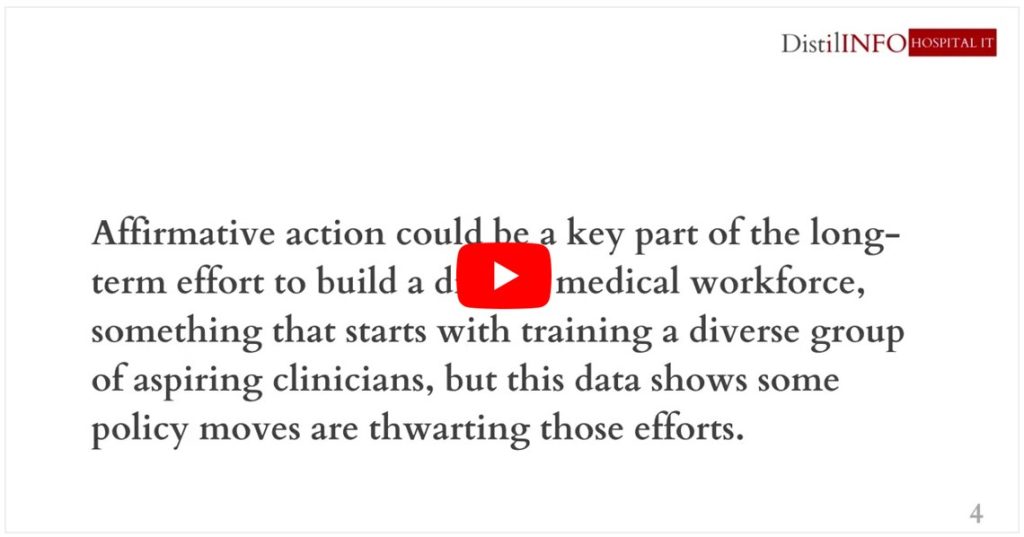 Affirmative action is the policy of prioritizing some groups that have been traditionally marginalized. In the case of medical school admissions, affirmative action may help assure traditionally marginalized groups, like Black people or women, can gain admittance. Affirmative action could be a key part of the long-term effort to build a diverse medical workforce, something that starts with training a diverse group of aspiring clinicians, but this data shows some policy moves are thwarting those efforts.
"We know that a more diverse physician workforce leads to better care for racial- and ethnic-minority patients," Dr. Dan Ly, the study's lead author, an assistant professor of medicine in the division of general internal medicine and health services research at the David Geffen School of Medicine at UCLA, said in a statement. "But we have made such poor progress in diversifying our physician workforce."
"Our research shows that bans on affirmative action, like the one California passed in 1996, have had a devastating impact on the diversity of our medical student body and physician pipeline," Ly added.
The researchers looked at public medical school enrollment from between 1985 and 2019, zeroing in on the proportion of underrepresented racial and ethnic groups at 53 schools. The assessment looked at public medical schools because state bans on affirmative action apply to public postsecondary institutions, in particular, the researchers clarified.
Of the 53 schools included in the study, 32 were in 24 states without affirmative action bans, while 21 were in eight states that had banned affirmative action during the study period (Arizona, California, Florida, Michigan, Nebraska, Oklahoma, Texas, and Washington). While the ban in Texas was reversed in 2003, the remaining states saw their bans enacted between 1997 and 2013.
And overall, that policy move spelled bad news for an industry that is now focusing on provider diversity. Five years after affirmative action bans were enacted, the total enrollment of underrepresented students at those schools fell by 37 percent.
That's a pretty startling figure, considering the low enrollment numbers, to begin with. In the year before the bans were implemented, underrepresented students comprised an average of 14.8 percent of total enrollment at public medical schools in states that would soon ban affirmative action.
Of course, there can be some ambiguity when discussing affirmative action. Public medical schools in states that enacted bans may not have considered race during admissions in the first place, the researchers acknowledged. Additionally, their data may have been skewed by students who did not identify with the mutually exclusive racial groups defined in the study.
Nevertheless, a better understanding of the medical school admissions process can play a key part in building more provider diversity, which is a key priority in light of the health equity conversations had over the past two years.
"As our country has spent the last two years weaving through the twin pandemics of racial health disparities amplified by COVID-19 and structural racism at large, our findings are critically important," co-author Dr. Utibe Essien, an assistant professor of medicine at the University of Pittsburgh, said in the press release. "As we observed, affirmative action bans have resulted in a loss of underrepresented physicians, who could have been at the front lines of caring for vulnerable populations throughout the pandemic and helping to alleviate disparities in care.
"My hope is that our findings will help provide policymakers with the tools to push back against affirmative action bans, not just for the diversity of the physician workforce, but for the equal and just health of our society," Essien added.
DIVERSE MEDICAL WORKFORCES SUPPORT PATIENT EXPERIENCE
Having a diverse clinician workforce has proven important for both outcomes and patient experience. In November 2020, researchers from the Perelman School of Medicine at the University of Pennsylvania reported that patient experience scores improve when a patient is able to visit with a provider who is the same race.
About a year later, researchers wrote in JAMA Network Open that Latina moms who visit other Latinx clinicians are more likely to report patient- and family-centered care than those who visited a provider who was not Latinx.
But ensuring that racial concordance is difficult when there aren't many clinicians who identify as a racial minority; a Latina mom can't visit a Latinx provider when there isn't one at the clinic. Part of building up that diverse workforce is making judicious hiring decisions, but most experts agree diversifying the medical workforce is also a longhaul effort that must begin with education.
MEDICAL SCHOOLS INVEST IN WORKFORCE DIVERSITY
Some medical schools have gone on the record as investing in medical workforce diversity, although they may not be public like the institutions included in this most recent study were.
Morehouse School of Medicine, an HBCU medical school founded in 1975, has partnered with CommonSpirit Health to form the More in Common Alliance, a collaboration set to expand medical school rotations and residency slots in traditionally underserved neighborhoods and communities. The partnership will also give medical students in Seattle, Tennessee, Kentucky, and Southern California access to Morehouse's extensive health equity curriculum.
Ultimately, the More in Common Alliance should help build out a medical workforce that better reflects the nation's diversity, which according to Hart Sutton will improve the quality of care delivered to traditionally underserved populations, like Black and Brown populations.
"Diverse providers provide high quality care for diverse patients," explained Erica Hart Sutton, MD, the associate dean for Academic Programs and Affiliations at the school. "They provide high quality parent care for all patients, but really improving the breadth, the heterogeneity, the contributions of scientists, healthcare providers, all of those things make for a stronger healthcare system. They make for a stronger scientific workforce in which differing opinions, viewpoints, and solutions to problems are valued included."
An emphasis on medical workforce diversity is also paramount at schools of osteopathic medicine, according to Barbara Ross-Lee, DO, the chair of the American Association of Colleges of Osteopathic Medicine (AACOM) Diversity, Equity, and Inclusion Working Group.
"To a large extent, medical education is focused on training each student to be able to address the biomedical issues that confront them with each and every patient," Ross-Lee, who is also the first African American woman to be dean of a medical school, told PatientEngagementHIT in an interview.
"Previously, we focused on the pathophysiology of disease more so than the social determinants that surround that patient. But every medical school—MD and DO—has been challenged to start to address some of the issues of equity and health disparities because of the persistence of health disparities."
Source:
PatientEngagementh IT