The App Association's Connected Health Initiative (CHI) provided comments to the ONC on its Draft (v3) US Core Data for Interoperability (USCDI) and its ongoing USCDI expansion process (draft USCDI).
"The USCDI is central to enhanced interoperability of healthcare data by specifying a common set of data classes required for exchange and identifying a predictable, transparent, and collaborative process," CHI officials said in a letter to Micky Tripathi, national coordinator for health IT.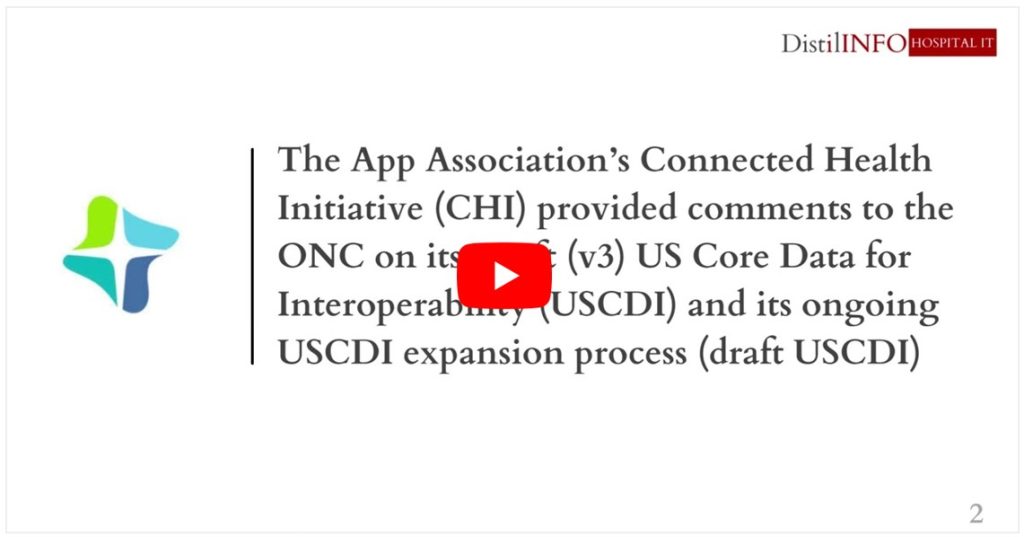 The officials noted that CHI supports the USCDI's proposed Version 3's data classes, which build upon the data classes referenced in the 2015 Edition Common Clinical Data Set (CCDS) definition and includes clinical notes and provenance.
CHI also supports USCDI expansion to include social determinants of health (SDOH) with privacy risk management practices that acknowledge the sensitivity of SDOH data.
"This includes incorporating SDOH data that considers social and environmental factors of patients' lives outside of the health care system in the USCDI with adequate safeguards, which requires ONC to coordinate with the HHS' Office for Civil Rights, standards development organizations, and other impacted stakeholders, which we support and encourage," the officials noted.
CHI requested that ONC clarify the role of certification in the Trusted Exchange Framework and Common Agreement (TEFCA) and the establishment and development of the USCDI.
"ONC has previously noted that once the final TEFCA is published, Qualified Health Information Networks (HINs) and their participants will be required to update their technology to support all the data classes included in USCDI 21 in accordance with the requirements in the final TEFCA," the letter explained.
Additionally, CHI requested that ONC include the average blood pressure (ABP) Level 2 data element in the USCDI v3.
"High blood pressure impacts more than 120 million people in the United States and is the leading modifiable risk factor for preventing death from cardiovascular disease," CHI officials wrote. "The accurate measurement and interpretation of blood pressure is vital for diagnosing high blood pressure and assessing effectiveness of treatment."
Over 20 years of clinical evidence have found that accurate estimation of an individual's blood pressure requires multiple blood pressure measurements, CHI noted.
"This is true regardless of whether a patient is in an office setting or measuring their blood pressure at home," they explained. "Moreover, consistent communication of ABP is critical for addressing hypertension nationwide."
Adding ABP to the USCDI will make it easier for healthcare providers to diagnose high blood pressure and assess blood pressure control more precisely, the CHI officials pointed out.
"Physicians need health information technology systems that can store and exchange ABP, separate and apart from individual readings," they added. "This can help with documentation and enable physicians to use ABP information in their clinical decision making."
Lastly, CHI officials expressed their support for coordinating the annual review process for the USCDI with the Interoperability Standards Advisory (ISA) annual review process.
Source:
EHR Intelligence