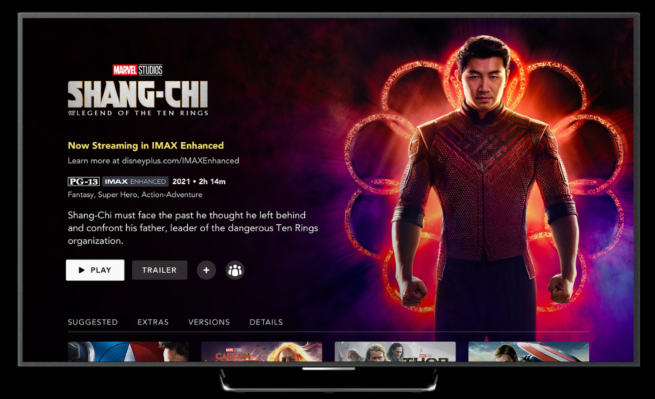 Disney has announced that 13 Marvel Cinematic Universe films will be available in IMAX format on Disney+ in November, including Shang-Chi and the Legend of the Ten Rings. The announcement was made as part of Disney's plans for Disney+ Day, an annual commemoration of the streaming platform's debut.
The movies: The 13 movies released at the time of release include Disney + Premier of "Legend of Xiangqi and Tenring", "Iron Man", "Guardians of the Galaxy", "Guardians of the Galaxy Vol. 2″, and " Captain America: Civil War, Doctor Strange, Thor: Ragnarok, Black Panther, Avengers: Infinity War, Antman & Wasp, Captain Marvel, Avengers: End Games, Black Widow ".
Format: The new format means that viewers will see a small black bar in a particular scene. According to the company, IMAX has an extended aspect ratio of 1: 90: 1, providing up to 26% more images for selected sequences. It's also close to the typical 16: 9 ratio for television.
Streamings: Movies that can be streamed in the new format will have a prominent label on the Disney + info screen. It is worth noting that the standard widescreen version of the movie will continue to be available on the streaming service."We are excited to create new value for Marvel fans and viewers with Disney + and look forward to providing more IMAX extensions in the future," said Michael Paul, president of Disney +
Collaborations: The new IMAX format gives Disney + an edge over competitors such as Netflix and Amazon Prime Video. According to the company, in the future, the collaboration will provide Disney + with more enhanced audio and visual technologies, including immersive IMAX signature sound from DTS, which is likely to compete with Dolby Atmos.
Enhanced view: Because many blockbusters, including MCU films, are now shot in IMAX, viewers will be able to transform their living room into a movie theatre, at least if their television or projector can handle the format. If a viewer tries to watch an IMAX film on a standard widescreen television, they will most likely see black bars on the sides of the image. Even yet, the enhanced IMAX format on Disney+ includes the immersive DTS sound found in movie theatres that accept the upgraded format, so it might be worth it.