Put a pin in it. Pinterest co-founder and longtime CEO Ben Silbermann handing the reins of the social platform to Google commerce chief Bill Ready, along with a recent acquisition, leaves little doubt that Pinterest is serious about realizing its social commerce aspirations.
News that Ready will succeed Silbermann is the latest move by Pinterest to be all that it can be — as in, a thriving social selling and creator economy destination — as the site struggles to reinvent itself for not just greater discoverability, its strong suit, but the resulting sales.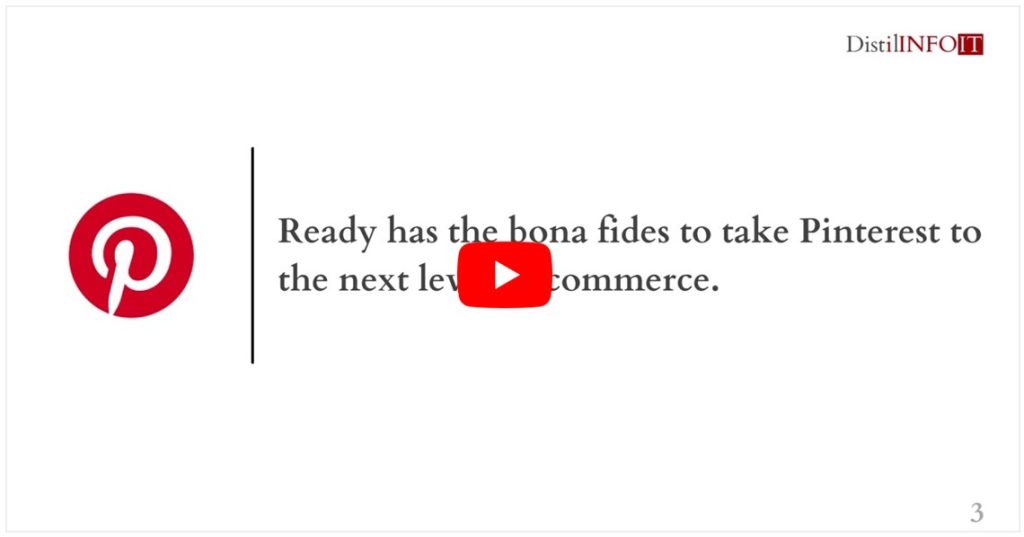 Ready has the bona fides to take Pinterest to the next level in commerce. Joining Google as president of commerce in January 2020 as the COVID-19 emergency was descending, Ready made most merchant listings free in the Google shopping tab and undertook a partnership with PayPal allowing merchants to link Google and PayPal accounts for faster onboarding of sellers.
When a rumored Pinterest acquisition by PayPal — where Ready was executive vice president and operations chief before Google — surfaced late last year, PYMNTS' Karen Webster compared Pinterest to Instagram, noting that "Pinterest focused on sharing what people liked, and Instagram on sharing what people do – which turned out to be much more viral, as people used the platform to more or less communicate what they were doing, eating, wearing and buying, and who they were doing it with," observing that Pinterest's monthly uniques "are about 40% of Instagram's."
Social Commerce Catchup
With Silbermann moving to executive chairman, a newly created post, Ready and his team have their work cut out as Pinterest is lagging in the pandemic eCommerce boom, handing in unimpressive financials in recent quarters and being eclipsed by more sales-focused rivals.
On Tuesday (June 28) The Wall Street Journal reported that "Pinterest has recently shed users and suitors alike, losing nearly three-quarters of its market value over the past year in the process," and added that "As of the first quarter, Pinterest's average revenue per user was just $1.33 globally and under $5 even in the affluent U.S. and Canada, where over 80% of its revenue was derived. By comparison, Meta Platforms' Facebook generated an average of over $48 per user in that region in the same period."
In the announcement of his taking over as CEO, Ready said "Having built multiple businesses from zero and operated at the scale of billions of users, I have a deep appreciation for what it takes to scale a business like this to the next level."
One of the first items on Ready's agenda will be integrating the shopping platform THE YES, acquired by Pinterest in June.
According to that June 1 announcement, "With hundreds of brand merchants on its platform, the team at THE YES has built an extensive fashion taxonomy that uses human expertise and machine learning to power a comprehensive algorithm in fashion. THE YES's brand relationships and shopping expertise can potentially be applied to other categories on Pinterest such as home, beauty and food."
THE YES "has scaled to provide a personalized daily shopping feed that learns a user's style as they shop with hundreds of merchants, including global brands and discovery brands across the fashion spectrum," per the release. It seems a fit, given Pinterest's audience and ambitions.
Turning discovery into dollars at the point of inspiration is where the platform has lagged, relying on advertising as its primary source of revenue. In a Q1 2022 shareholder letter in April Pinterest teased its 'Your Shop' concept, still in beta but anticipated to debut later this year.
Talking up the launch of the Pinterest API for Shopping that improves product pages, real-time pricing and availability, it said "We're on the path to making shopping on Pinterest more personalized with the beta test of Your Shop in Q1, a customized shopping page powered by our taste-driven algorithm informed by Pinners' unique preferences and styles."
Along with that is "testing our seamless checkout experience with more merchants."
Embracing the payments potential of the creator economy, Pinterest announced its Pinterest TV Studio app in May, taking on TikTok, Instagram, YouTube, Facebook Reels and other short-form video models tinkering with monetization models for video content.
Source:
Pymnts