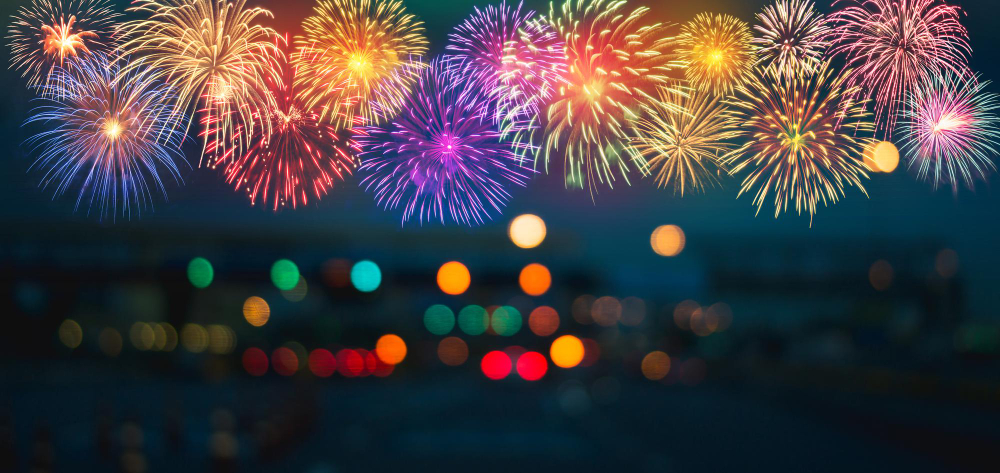 "And the rockets' red glare, the bombs bursting in air" is proof as to why some municipalities are turning to drones and other tech for light shows, foregoing fireworks displays this Fourth of July.
Take an unusually dry June across much of the U.S. and the wildfire threat fireworks introduce to that tinder-dry underbrush, and then combine it with supply chain shortages. Mix in a smidge of inflation making citywide parties a low priority, and what you get is fewer fireworks displays.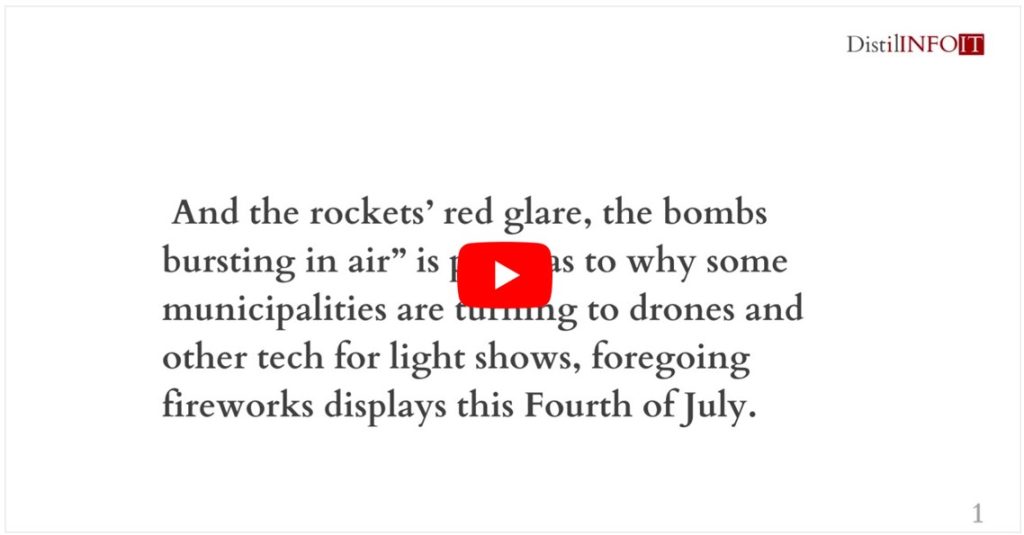 For example, as the holiday weekend was about to begin, The New York Times reported that "across the West in particular, drought and hot, dry and windy weather this summer has already helped to set the conditions for fast-moving blazes. As of Wednesday, there were five wildfires burning across the region."
It's also supply-chain related, as there are — of course — shortages. A brief from the American Pyrotechnics Association notes that with raw materials, shipping costs, insurance and another labor shortage pressing in, "overall costs are up 35%+ across the fireworks industry" in 2022.
Different cities are handling it different ways. NBC News San Diego reported that "after a last-minute cancellation of the city's fireworks display, the city is teaming up with Verge Aero for a high-tech drone show that will be staged from the landmark Imperial Beach pier. The show will be synchronized with music that will be heard at the Pier Plaza."
Meanwhile, the RELLIS Campus, a high-tech research center that's part of the Texas A&M University System, went for its Third Annual Drive-in Fireworks and Drones Show, giving fireworks and light show lovers two shows in one, presumably up to RELLIS tech standards.
In New York City, Macy's once again put its name behind one of the most famous July 4 fireworks displays in America, promising in a press release that "this year's revelry will launch more than 48,000 shells and effects from five barges positioned between E. 23rd and E. 42nd Streets on the East River with prime viewing from three boroughs in New York City."
Droning on About Drones
With the drone supply chain and operator workforce evidently in better shape than its combustible cousin, drone fleets built for light shows in the sky are lighting up demand-wise.
Graham Hill, owner of drone firm HireUAVPro, told Fox News Phoenix, "Last year, we probably had about a dozen requests. But this year, we probably had like three or four hundred requests."
Over at Bellport, New York-based Fireworks By Grucci — long considered the Gucci of U.S. fireworks makers — a number of traditional shows were planned in several cities. The products are so good that its Pyrotechnique division won an $11.7 million contract with the U.S. Department of Defense to make hand-grenade simulators and flash-bang grenades for Army training.
Is there any tension between the drone display camp and the people with exploding things?
Reuters got ahead of the story, reporting in May that one major drone sky show producer, Verge Aero, "generally charges $25,000 minimum for a drone spectacular," while "by comparison, a small town can put on a fireworks display for $15,000 to $20,000, according to the fireworks trade association. On the high end, Verge Aero can put on a $100,000 show while big city fireworks displays can easily top $1 million."
That same story contained a small retort from Julie Heckman, executive director of the American Pyrotechnics Association, who said that "drones were not yet considered a serious threat to fireworks displays, a $375 million industry in 2019 before the coronavirus pandemic, as they lack the 'multisensory' spectacle of colors, concussions, and the smell of smoke."
And what about the mischievous millions who buy and set off their own dazzling displays? They may get a citation — of the legal variety. Authorities are taking it a bit more seriously this year due to fire hazards and being out of practice after two years of limited celebrations.
Underscoring this point, the Los Angeles Times reported that "a tip led authorities to a stash of 14,000 pounds of illegal fireworks in Azusa (California) just days before the Fourth of July," adding that "twenty-seven homes were evacuated from the 900 block of West Hollyvale Street on Monday afternoon while the explosives were removed, according to the Azusa Police Department," and one person was detained.
Source:
Pymnts