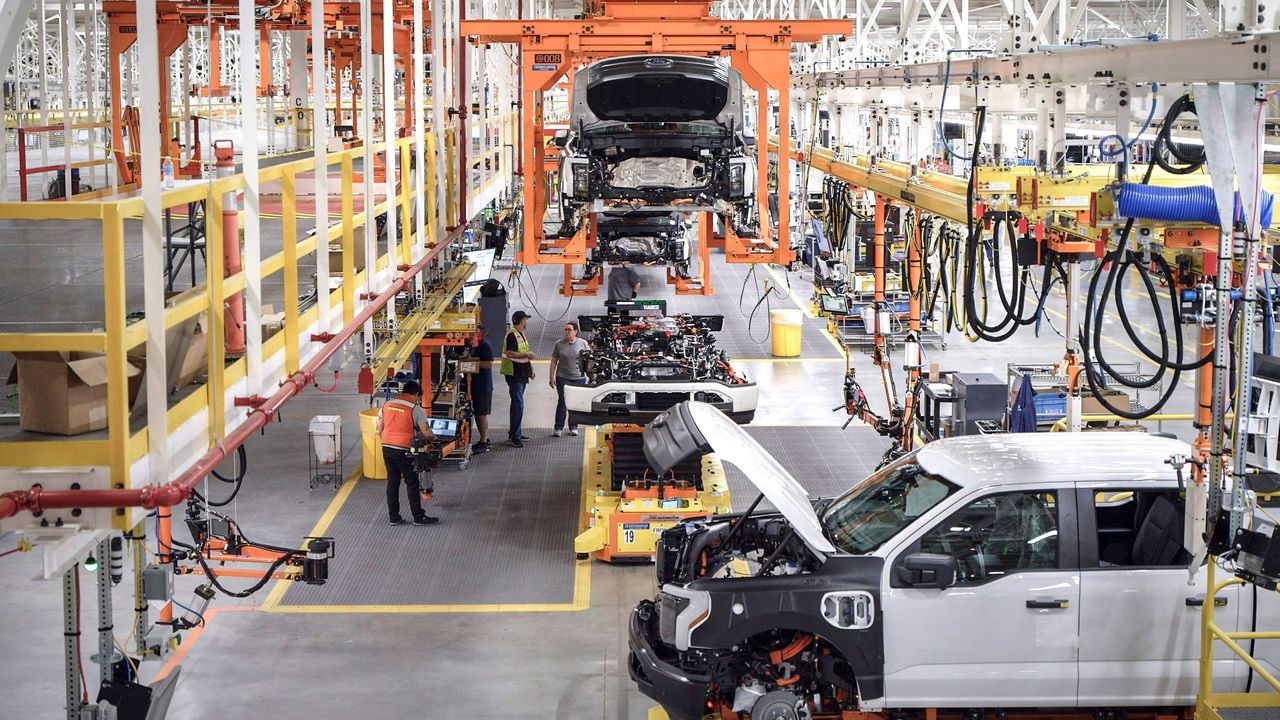 U.S. automakers are grappling with an uncertain path to electrification as consumer preferences fluctuate with gas prices. While initially bullish on electric vehicles (EVs), Ford and GM now appear hesitant, citing customer demands. However, some issues, like inconvenient EV charging and high prices, stem from automakers' own decisions. Despite previous commitments to EV development, legacy automakers' focus on profitable SUVs and trucks has yielded substantial profits. The question remains: why are Ford and GM pumping the brakes on their EV plans amid the industry transition?
American consumers seem to have short memories when it comes to their vehicle preferences. When gas prices soar, they quickly embrace fuel-efficient options. Yet, as soon as gas prices drop, they eagerly rush to buy the largest trucks available. Just take a glance at the sales data of Ford's F-Series trucks over the past decade, and you'll see how closely it mirrors the fluctuations in average monthly gas prices.
The curious thing is that U.S. automakers themselves resemble this fickle customer base. Not too long ago, they were enthusiastic about electric vehicles (EVs). However, after investing significantly in this direction for just a few years, they appear to be having second thoughts.
Ford and GM, in particular, claim they are merely responding to their customers' demands. Perhaps they are indeed doing just that. Some consumers remain hesitant due to the inconveniences associated with EV charging, while others have been put off by the high prices. Interestingly, both of these issues could be seen as problems of their own making: Traditional automakers have neglected to make charging a seamless part of the ownership experience, and Ford and GM have consistently priced their EVs out of sync with market expectations.
Being responsive to customer needs is usually an asset, allowing companies to adapt their product offerings to market trends. However, in times of significant transition, when the future is uncertain, this approach may not be the wisest way to conduct business.
Legacy automakers have often asserted that their profitable lines of conventional vehicles would serve as a strength during the transition to EVs. All three major American automakers have committed to investing billions in EV development and battery production, and so far, this strategy seems to be paying off.
Over the past decade, automakers have prioritized the production of crossovers, SUVs, and pickup trucks—segments known for their profitability. U.S. automakers, in particular, have embraced this trend wholeheartedly. Ford, for instance, has largely ceased manufacturing mass-market cars and focused on crossovers, SUVs, and pickups, with the occasional Mustang coupe for branding purposes.
And the results? Remarkably positive. Ford reported a $1.2 billion profit for Q3, despite challenges posed by the UAW strike. GM outperformed with an impressive $3.1 billion profit in the same quarter. While Stellantis doesn't typically disclose its quarterly earnings until November, it had an exceptionally profitable first half of the year, posting a substantial $12.1 billion in profit.