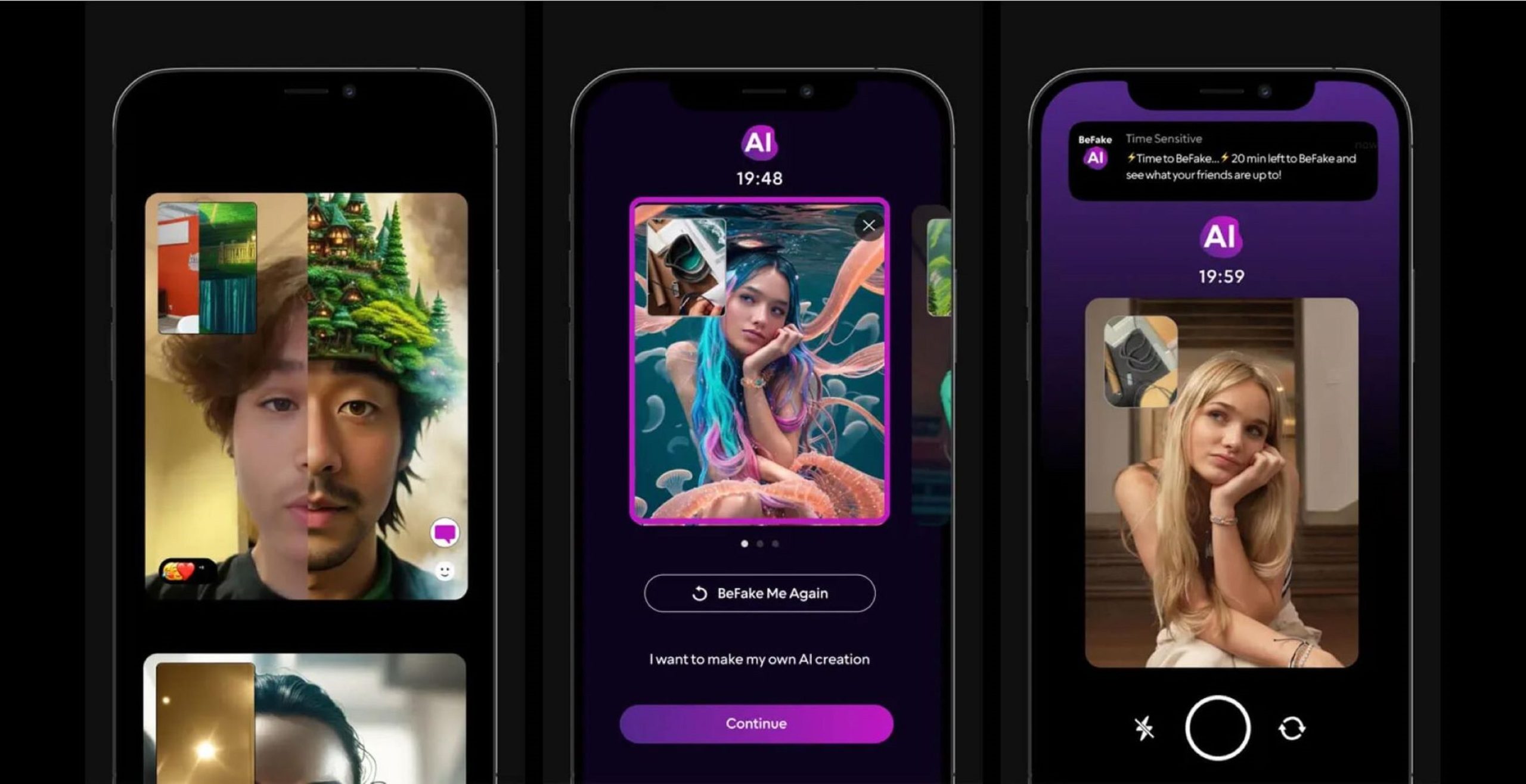 BeFake, an AI-driven social app blending features from BeReal and AI technology, secures $3M in funding. Created by Alias Technologies, it emphasizes creative authenticity over curated reality. Co-founders Kristen Garcia Dumont and Tracy Lane's gaming background informs its adaptive approach. With rapid AI enhancements and diverse prompts, BeFake redefines social interaction. The app's name, rejecting curated authenticity, represents a unique concept. Backed by Khosla Ventures and others, BeFake aims to reshape social networking with its distinct vision.
BeFake, an innovative social networking platform blending elements from the popular Gen Z app BeReal with cutting-edge AI technology, has successfully obtained $3 million in seed funding. The funds will be employed to forge an AI-enhanced social network experience. Unlike its name, which may imply parody, BeFake aims to revolutionize user interactions on social media.
The brainchild of Alias Technologies, a company deeply rooted in applied AI, BeFake harnesses generative media and multi-modal AI systems to craft unique social media applications. Alias Technologies was founded in 2021 by Kristen Garcia Dumont and Tracy Lane, both former key figures at Machine Zone, a gaming industry giant acquired by AppLovin in 2020. Dumont, who served as CEO at Machine Zone, played a pivotal role in creating and launching profitable mobile games such as World War Rising and Final Fantasy XV: A New Empire, amassing over $1 billion in revenue. Lane, on the other hand, held the position of COO and managed aspects such as community engagement, moderation, compliance, and platform collaborations.
Drawing from their experience, Dumont and Lane have embarked on a journey to reimagine real-time social networking. BeFake leverages Alias' advanced AI technology, allowing users to input text prompts and transform their photos into AI-enhanced visual creations. The platform aims to empower users to express their creative authenticity, rather than absolute reality.
The concept was inspired by the unexpected connections formed between gamers through AI algorithms. Gamers interacting under digital identities, rather than real-world personas, prompted the inception of BeFake.
Functionally similar to other apps like BeReal and Frontback, BeFake enables users to capture front and back photos before applying AI modifications. These enhancements can range from style prompts to imaginative settings, such as placing oneself atop Mount Everest. The company's proprietary pipeline, featuring Stable Diffusion and a custom denoising loop, ensures compatibility with diverse photo types, including candids and group shots.
BeFake distinguishes itself by offering rapid AI-powered alterations, often within seconds. Users engage with the app for an average of 10 minutes per session, crafting their AI-assisted creations. These augmented photos can be shared with friends, featured in a discovery feed, or posted on other social platforms.
Addressing the app's name choice, Dumont clarified that "BeFake" does not solely parody BeReal, but symbolizes a rejection of curated authenticity prevalent in today's social media landscape. BeReal users began curating their "real" moments, leading to the desire for a more creatively authentic outlet.
Since its recent launch on the App Store and Google Play, BeFake has been experiencing triple-digit week-over-week growth, although specific download and user metrics remain undisclosed.
BeFake's revenue model revolves around subscriptions, offering users the ability to create AI images outside the standard time frame. Subscription options include $2.99/week, $9.99/month, or $99.99/year. Additionally, the app notifies users daily of a 20-minute window to create AI images for free.
The company's gaming background informs its adaptability strategy, enabling swift responses to evolving user preferences. BeFake's moat, however, lies in its community engagement, emphasizing the importance of hyper-responsiveness to user needs.
BeFake's pursuit of excellence is evident in its commitment to continuous learning and refining AI algorithms. Backed by $3 million in seed funding led by Khosla Ventures, with participation from Next Coast Ventures, Maveron Ventures, Peter Thiel, Joe Lonsdale, and WS Investments, BeFake is poised to reshape the landscape of social networking with its innovative approach.