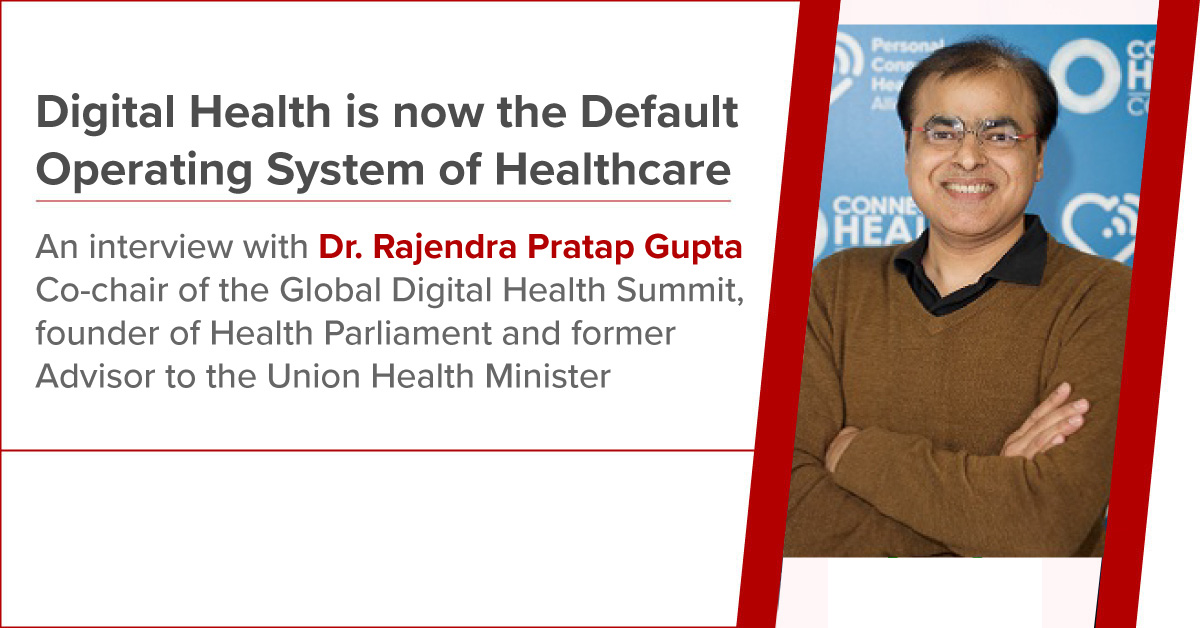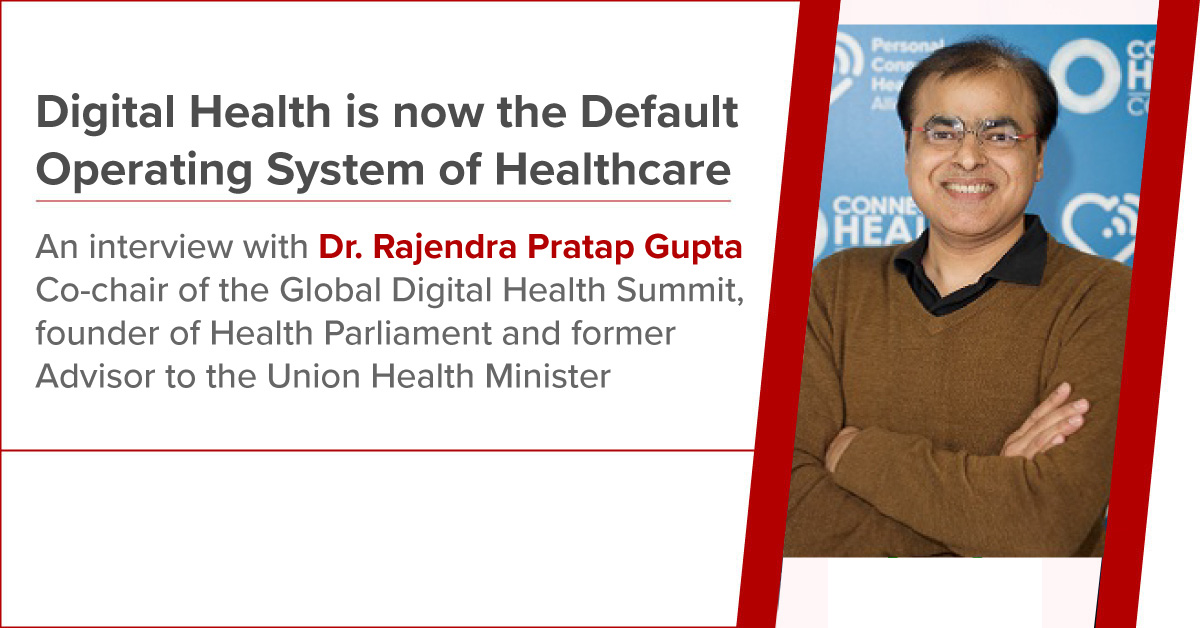 Dr. Rajendra Pratap Gupta
Co-chair of the Global Digital Health Summit, founder of Health Parliament and former Advisor to the Union Health Minister
Rajendra Pratap Gupta (Rajendra) is a public policy expert who has been contributing to policy making for over a decade and a half across sectors. Rajendra has worked with some of the largest organisations across the world and was nominated to the Global Agenda Council of the World Economic Forum for 2012-2014 in recognition of his work. He has served at senior-most levels at fortune 20 & fortune 500 companies in India. Besides, he has been invited by global organizations like the United Nations, UNESCO, World Bank, Asian Development Bank, World Health Organization, World Economic Forum, ITU ( oldest UN body), United States of America, United Kingdon, Govt. of Japan, Algeria, Finland & Bangladesh, and also by the Ministry of Health, Ministry of Human Resource Development, Ministry of Labour and Employment & The Planning Commission – Government of India, for his views on a diverse range of topics.
---
DistilINFO: COVID-19 has definitely ushered in an unprecedented digital health ecosystem but how, as a country, should we carry forward this momentum?
Rajendra: As a country, India has currently been ranked at the top in terms of Digital Health programs, thanks to Prime Minister Modi.

The numbers speak for themselves. About 2 billion COVID vaccinations have been delivered and tracked through a digital system, about 220 million health records have been allotted, and more than 30 million digital consultations have been delivered through eSanjeevani. This is a big achievement for any developing country. When it comes to digital health, we are matching the developed countries in size and scope. Going forward, we need to have a clear plan of action for Digital Health, and we should avoid lobbying by vested interests, as that can derail our promising start.Today, India is the world leader in Digital Health.


DistilINFO: How do we take the next steps when it comes to blending traditional healthcare models and digital approaches and how the central government missions like Ayushman Bharat Digital Mission (ABDM), CO-WIN platform and Make in India will help?
Rajendra: Luckily, India does not have many legacy systems, and we will be building a healthcare system with digital health embedded in it. So, by being late, we are lucky. CO-WIN platform must go beyond COVID and should be used as a Mobile Healthcare Exchange (MHE) for providing a host of services. This should be both; mobile and web-based to serve as an exchange, a patient portal and a mobile digital record (MDR- A longitudinal health record for every Indian). CO-WIN can become the default template for digital health and leads the way for the world to see how India has adopted digitalization across healthcare delivery. NHA – ABDM has the appropriate institutional structure and leadership for delivering digital health. It is time to do public reviews on various aspects of delivery so that we don't have to do expensive technology rollbacks in future. Half-yearly reviews with beneficiaries will ensure the building of a future-proof system. Also, it is time to have a minister for public and digital health.


DistilINFO: Can you tell us about the 2022 edition of the global digital health summit? What are the actionable outcomes you are expecting out of this summit? How do you think this summit will help push the digital health ecosystem?
Rajendra:
This summit is truly global, with the world's leading digital health associations joining hands to host the Global Health Connector partnership meeting in Delhi. This event is supported by the American Telemedicine Association, HLTH- USA, The Digital Health Society of Ireland, Africa Health Federation, International Society for Telemedicine & eHealth (ISfTeH, Switzerland), Dynamic Coalition on Digital Health- Internet Governance Forum, United Nations, Commonwealth Centre for Digital Health, European Connected Health Alliance & Health Parliament.
This summit(
https://globalsummit.health/
) will release the world's first multi-stakeholder declaration aiming at 'Digital Health For All'. We are drafting the declaration, which will be released at the summit. This is aimed to galvanize all stakeholders to ensure we deliver digital health for all and reduce inequity in healthcare.
This summit will witness the launch of path-breaking initiatives
a. Global Digital health Professionals Council- a virtual community of people working in digital health
b. Women for Digital Health- Campaign to get more women into leadership roles in Digital Health
c. Launch of the world's first comprehensive Women's Health Guideline
The global awards (
https://globalsummit.health/awards
) for innovators disrupting healthcare are another big attraction and will recognize and celebrate the 'transformers' in healthcare. These awards will be judged by an international jury chaired by Brian O'Connor, chairman of the European Connected Health Alliance. These awards are open to the healthcare and pharmaceutical industry deploying digital health solutions.
The Outcomes Report from this summit will lay the roadmap for the future of digital health. This is not just another summit; it will be answering some of the critical questions which have plagued the mass adoption of digital health like:
• Return on Investments for Digital Health
• Adoption of digital health amongst doctors and small clinics and hospitals less than 20 beds.
• Increasing the momentum for digital health amongst the small healthcare providers and clinicians operated practices/clinics, which constitute the majority of providers for healthcare in developing countries
• How 5G, Gaming, and Metaverse will transform healthcare
• Meeting with the team delivering the National Digital Health Mission.
This summit will have participants from major regions across the globe.
The speakers include the tallest leaders who have shaped digital health for over two decades. One of the key highlights is where the participants can have a dedicated session with the global leaders and seek answers to their queries. This has never happened in any Digital Health summit so far! So, this is a summit where the delegates will be shaping the movement for ensuring 'Digital Health For All'.
We have already got more applications than the seats, so we are filtering criteria to ensure decision-makers from across the continuum of care are represented. Announcements at this summit will make it a historical summit for years to come.
DistilINFO: You were behind the drafting of the National Health Policy-2017. We all saw that Telemedicine though became a crucial tool during the pandemic, and already National Health Policy lists it as an essential objective. Still, there is a missing gap regarding proper implementation of the health technology as there is no set of guidelines available or standardized format to qualify patient-physician interaction or no accountability framework to tackle medico-legal negligence matters. So what are your thoughts on this?
Rajendra: If we review page 23 of the NHP point 12.1, mentions the mandatory disclosure of treatment and success rates across private and public healthcare facilities. This will be a game-changer for improving healthcare quality, which needs to be implemented through the NHA digital dashboard. On the communication issue, in Q3,2022, the Health Parliament will be launching the 'World Healthcare Communication Week' to focus on 'Interaction & Information' SOP between the care-seekers and care-providers. This is even more critical as we move towards a hybrid care model through digital consultations. We have another global campaign focused on family medicine, in which we are working with a leading multi-lateral body—more details as we close that discussion.

The NHP-2017 is radical in many ways and has addressed all such challenges. I think the time has come to review the progress of the National Health Policy, as it has been five years since it was approved. At Health Parliament (the think tank I founded) has started reviewing the NHP, and we will make the detailed review available by early 2023.