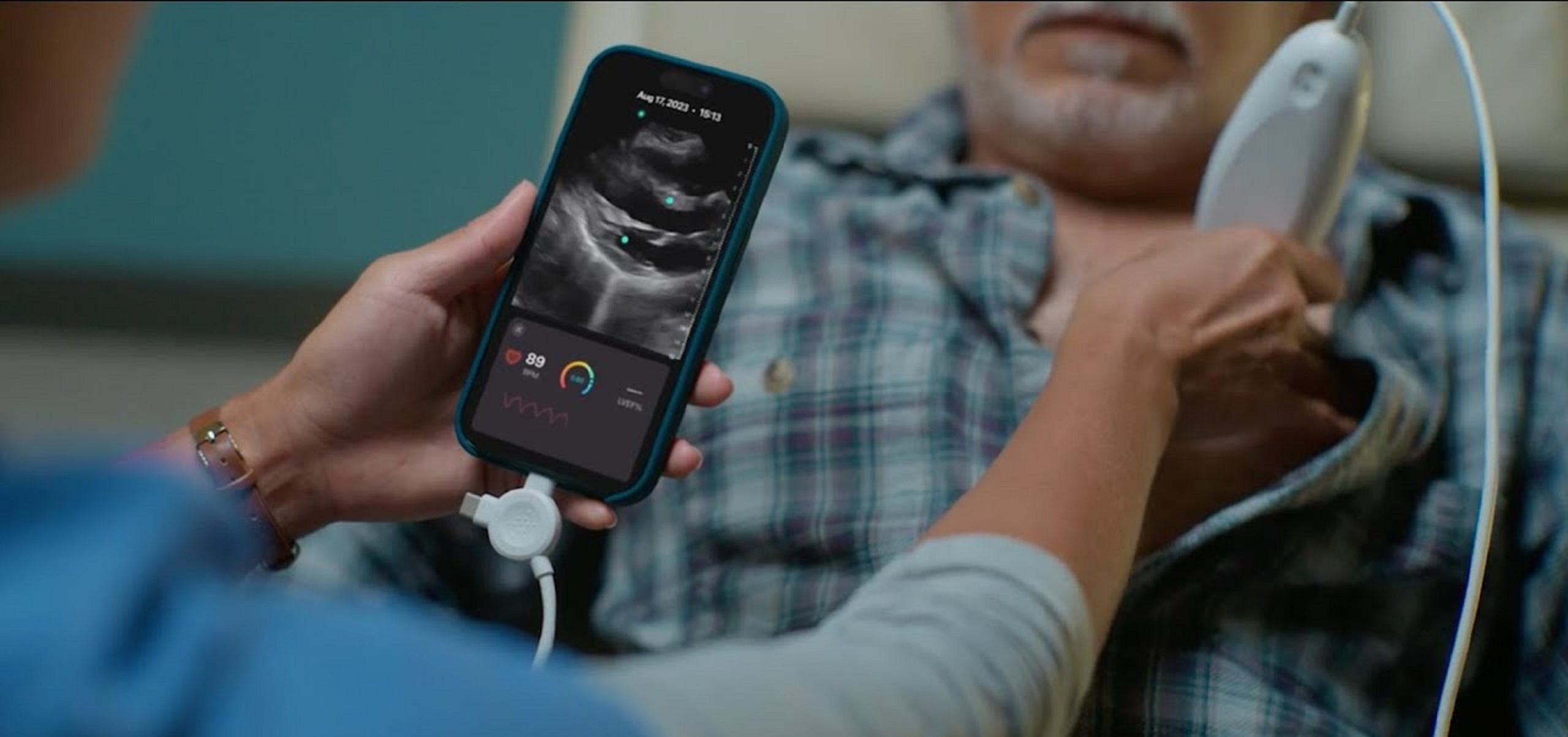 Exo has unveiled Exo Iris™, a groundbreaking handheld ultrasound device that redefines medical imaging by providing versatile, on-the-go solutions. Built on advanced silicon technology, Exo Iris offers point-of-care ultrasound (POCUS) capabilities in a compact, cost-effective design. It seamlessly integrates with Exo's ecosystem, including AI solutions for bladder, cardiac, and lung conditions. Exo Iris simplifies image acquisition with real-time AI, ensuring accuracy. It integrates effortlessly with healthcare IT systems, ensuring data security. This innovation aligns with Exo's mission of making medical imaging accessible and efficient.
Exo, a pioneer in medical imaging software and devices, has just introduced a groundbreaking handheld ultrasound device known as Exo Iris™, heralding a new era of portable, on-the-go medical imaging. Built upon Exo's cutting-edge silicon technology, Exo Iris offers versatile imaging capabilities for point-of-care ultrasound (POCUS), all while being significantly smaller and more cost-effective than traditional cart-based systems. As the latest addition to the Exo ecosystem, which seamlessly integrates imaging, workflow software, and artificial intelligence (AI), Exo Iris empowers healthcare providers, including physicians, nurses, EMTs, and clinicians, across various care settings to access immediate insights into the human body.
Sandeep Akkaraju, CEO and Co-Founder of Exo, remarked, "Iris represents a paradigm shift in ultrasound technology. It's designed to be as user-friendly as capturing an image with a smartphone. For healthcare professionals longing for more accessible medical technology, your wishes have been granted. This device is tailor-made for you and the entire healthcare community. It will save lives, enhance patient care, and reduce costs. Iris is just the beginning of our journey to redefine medical imaging through innovative design. We're just scratching the surface."
Simplicity and Immediate Insights
Exo Iris places the caregiver at the center of its design, combining a straightforward user experience with real-time AI to ensure that even novice users can obtain instant answers at their fingertips. The patented SweepAI technology automates image acquisition with a simple wrist movement, minimizing operator variability and bias for consistently accurate imaging.
Exo Iris comes equipped with Exo's Bladder AI solution, enabling caregivers to assess bladder volume in seconds. Additional AI solutions, including advanced Cardiac and Lung AI suites pending FDA 510k approval, offer real-time guidance for diagnosing and monitoring heart and pulmonary conditions.
Arun Nagdev, M.D., Senior Director of Clinical Education at Exo, emphasized, "Exo Iris is incredibly user-friendly—our entire ecosystem is designed around the POCUS user's needs and preferences. It redefines ultrasound design, seamlessly integrating imaging, workflow, and real-time AI into a single platform."
Breakthrough Technology for Point-of-Care Insights
Exo Iris harnesses Exo's patented pMUT-based technology, merging the imaging quality of piezoelectric crystals with the affordability of silicon. This silicon-based architecture enables rapid improvements in imaging quality and empowers real-time AI analysis of every frame, providing immediate answers to users.
Exo Iris offers unmatched sensitivity for deep tissue imaging and fine structure tracking, allowing caregivers to scan major organs and guide procedures like IV placement. Its ultra-wide field of view, up to 150 degrees, enables comprehensive imaging, such as capturing an entire liver or a full-body fetus in a single view.
Seamless Integration with Healthcare IT Systems
Hospitals can effortlessly integrate Exo Iris into their existing healthcare IT systems, ensuring compliance and data storage compatibility with PACS or VNA. Exams can also be securely stored on Exo's cloud platform. Moreover, Exo Iris functions without internet connectivity, a crucial feature for caregivers in remote areas and mobile response situations. The device includes Exo's point-of-care ultrasound workflow solution, Exo Works, for rapid documentation and exam review from any location, creating a cohesive medical imaging ecosystem that operates seamlessly across hospitals, clinics, and homes. This makes the system-wide adoption of POCUS a reality for healthcare organizations.
Exo Iris prioritizes patient data security, meeting the highest standards with HITRUST, HIPAA, SOC2 Type II compliance, and ISO 27001 certification, offering peace of mind to IT departments and ensuring regulatory compliance.
Creating New Care Pathways
Exo Iris marks a significant step toward Exo's mission of democratizing medical imaging through a user-friendly and accessible ecosystem that provides immediate insights at the point of care. The Exo platform empowers caregivers to access quick, accurate, and affordable imaging through Exo Iris, streamline administrative tasks with Exo Works, and obtain consistent, accurate images with real-time AI.
Richard Popp, M.D., Professor of Medicine (Emeritus) at Stanford University and Head of Exo's Advisory Board, shared his enthusiasm: "Exo Iris has surpassed my expectations in imaging quality. I can now identify both normal and abnormal conditions in various organs right at the point of care. Paired with Exo's advanced AI capabilities, Exo Iris will revolutionize patient care, enabling the monitoring of chronic conditions at home with AI-assisted point-of-care ultrasound. The potential applications are limitless, much like the iPhone's evolution. With Exo Iris being affordable, high-quality, and readily accessible, specialists and colleagues can expand their use of ultrasound across clinics, all day long."
Overall, Exo Iris represents a significant leap forward in the realm of medical imaging, empowering healthcare professionals with a portable, user-friendly, and AI-enabled ultrasound solution that promises to transform patient care and enhance healthcare delivery across diverse settings.