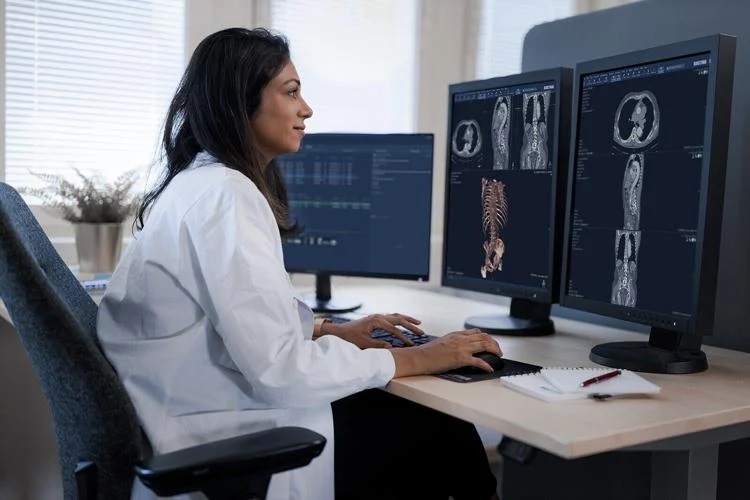 Sectra, at RSNA, unveils pioneering advancements in radiology, emphasizing efficiency and work-life balance for radiologists. Showcasing a robust imaging portfolio, including AI integration and cloud-based solutions, Sectra aims to optimize workflow flexibility and boost productivity. The company's innovations, from Sectra IDS7 to educational tools like Sectra Education Portal, promise streamlined processes and enhanced collaboration. These breakthroughs, bridging research and clinical applications, signify a transformative shift in radiology, alleviating burdens while ensuring top-notch patient care.
As the Radiological Society of North America's annual meeting approaches, Sectra prepares to present game-changing innovations. Marie Ekström Trägårdh highlights Sectra's mission to combat radiologists' workload challenges, enhancing workflow efficiency. With a diverse portfolio showcased at booth #8113, Sectra redefines enterprise imaging with cloud-based services, AI integration, and advanced tools like Sectra IDS7. The company's commitment to empowering radiologists resonates through solutions facilitating structured reporting, image sharing, and educational excellence.
In anticipation of the upcoming Radiological Society of North America's annual meeting (RSNA), Sectra, a global leader in medical imaging IT and cybersecurity, is set to unveil groundbreaking advancements aimed at optimizing radiology workflows and fostering a healthier work-life balance for radiologists. The company's commitment to boosting productivity and enabling workplace flexibility stands to revolutionize the field.
Marie Ekström Trägårdh, President of Sectra Imaging IT Solutions, emphasizes the mounting challenges faced by radiologists, such as escalating workloads and the looming threat of burnout. In response, Sectra leverages cutting-edge technology not only to streamline workflow efficiency but also to empower radiologists in achieving equilibrium between professional commitments and personal life.
Trägårdh notes, "While the volume of imaging studies remains high and the number of radiologists limited, our technology excels in augmenting workflow efficiency, thereby significantly improving the work-life balance for these professionals."
Acknowledging the pressing need for heightened productivity across various reading locations, Sectra endeavors to tackle this concern and other pivotal issues at the RSNA event. The primary objective is to alleviate the burdens faced by radiologists through insightful discussions and live demonstrations.
Within booth #8113, Sectra will proudly showcase its comprehensive enterprise imaging portfolio, anchored by imaging modules spanning radiology, cardiology, pathology, orthopedics, and ophthalmology. Central to this exhibit will be the VNA (Vendor Neutral Archive) and the esteemed Best in KLAS PACS (Picture Archiving and Communication System), both seamlessly delivered as a cloud-based service.
Highlighted offerings and announcements featured at Sectra's booth #8113 at RSNA:
1. Sectra IDS7, the diagnostic application, will spotlight its latest features, designed to enhance the visualization of current and previous studies, thereby significantly boosting radiologists' productivity.
2. Sectra One Research bridges the gap between research and clinical application, offering tailored PACS for research purposes alongside tools facilitating data anonymization, export, and import.
3. The introduction of Sectra Forms, a Software as a Service (SaaS) solution, empowers users to create, collaborate, and share templates, thereby facilitating structured reporting workflows.
4. Embracing the integration of AI into clinical practice, Sectra Amplifier Services offers seamless integration of AI applications into radiology workflows. With over 30 deeply integrated AI applications from diverse vendors, this initiative aims to alleviate the burden on radiologists, providing contracting, support, and an open integration approach.
5. Sectra UniView, a zero-footprint web viewer, facilitates enhanced image sharing and discussions with referring physicians. It offers rich reports with image links, collages, and easy access to prior studies and results.
The introduction of Sectra One Cloud, an enterprise imaging service, promises heightened efficiency for radiologists by providing rapid access to the latest features and functionalities while ensuring instantaneous image accessibility from any location.
Furthermore, Sectra's MSK (Musculoskeletal) toolbox introduces time-saving functionalities, including a LAT foot guide complemented by an AP guide, measurements for 3D ratio, curved distances, and more. The recent addition of Sectra IMA aims to aid orthopedists in determining implant stability, streamlining the revision process.
Addressing the educational aspect, Sectra offers the Education Portal, creating a secure environment for radiology and other image-based medical training. The platform boasts a repository of ready-to-use learning content, thousands of clinical case representations, and access to Sectra's complete diagnostic toolbox.
In essence, Sectra's transformative advancements showcased at RSNA promise to revolutionize radiology workflows, fostering a conducive environment for radiologists to achieve improved work-life balance while delivering exceptional patient care.
Sectra's RSNA exhibit marks a pivotal moment in radiology, unveiling cutting-edge solutions aimed at reshaping the field. By prioritizing radiologists' well-being through streamlined workflows and advanced tools, Sectra propels the industry towards a future of enhanced productivity and work-life balance. The showcased innovations—from cloud-based services to AI integration—underscore Sectra's commitment to supporting radiologists in delivering exceptional patient care. With an array of groundbreaking offerings and collaborative platforms, Sectra pioneers a new era in radiology, fostering innovation while prioritizing the holistic needs of healthcare professionals.